Our Commitment
The centre is an extension of family home life and our role as educators is complimentary to that of parents, working together to best meet the needs of the child. At Bay Island Early Learning & Care we are committed to: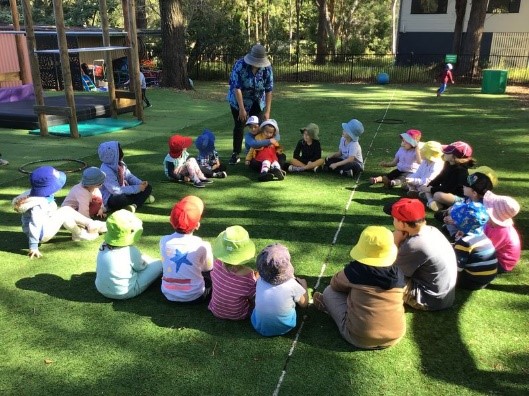 Providing a fun, innovative, positive and safe environment where children, parents and care givers feel welcome and have a sense of belonging.
Development of routines, programs and procedures that reflect the highest standard in education and care, incorporating the needs of each child and family.
Nurturing consistent, positive, caring relationships and creating a setting that provides children with the encouragement and freedom to explore, experiment and become.
An inclusive policy where children from all religions, race and cultural backgrounds are welcome.
Continuous improvement and ongoing professional development to attract and retain quality educators as an employer of choice.
Our Children are tomorrow's leaders and we are privileged as Educators to assist them as they mature and develop to their full potential.
Open Door Policy
This Centre has an Open Door Policy and welcomes family and community members to visit the Centre at any time. We encourage parents, guardians and the wider community to participate in and enrich the children's experiences by sharing their expertise and talents.
Nut Aware Centre
In order to provide a safe environment for children with food allergies and intolerances, please do not send nuts or sandwiches containing nut products such as peanut butter or nutella to the Centre with your child.
Opening Hours
The service is open 50 weeks per year, operating between 6am and 6pm Monday to Friday. The service is closed on gazetted Public Holidays and all non public holiday days in the week between Christmas and New Year.
Nutrition
We encourage a nutritious diet that is important for your child's growth and development. All our meals are sourced from Kids Gourmet Meals, providing delicious and nutritiously balanced meals on a 2 week menu. Special dietary needs recorded on your child's enrolment form will be discussed and were required an alternative suitable meal may be sourced. In an extraordinary case, it may be necessary for food to be supplied or supplimented from home - should this be necessary please supply your child with a nutritious lunch, and a healthy snack for morning tea and afternoon tea. Cakes, lollies, chips, fizzy drinks and cordial should be kept as at home treats and not sent in lunch boxes - inappropriate food will be sent home. Please visit the Nutrition Australia website for further information : www.nutritionaustralia.org
Bottles for Toddlers may be checked in with an Educator on arrival, where it will be recorded and appropriately stored. The supply of a clearly labelled water bottle for your child is optional, as the service provides water stations with cool water available at all times and Toddlers are provided with labelled 'own use' sippy cups.
Courtesy Bus Services
Families who reside on all four (4) of the Southern Moreton Bay Islands may access our service via complementary (FREE) courtesy bus services that transport the children. Bay Island Early Learning & Care operate two courtesy bus services. Our 10 seater bus provides free transport between the Centre, the Macleay Island ferry terminal for families living on Lamb, Karragarra Islands and private homes on Macleay Island. The Russell Island courtesy bus provides free transport via vehicular barge between designated meeting points on Russell Island and our service on Macleay Island. Both buses are driven by Early Childhood Educators and are fitted with regulation compliant safety restrains with Drivers regularly trained in age appropriate use and correct fitting procedures for the safe and secure transportation of the children. Whilst enjoying the bay breeze and scenic waterway on the vehicular barge the children are provided with a morning and afternoon snack whilst engaging in conversation and/or activities with the Educator.